Migrating Database Collation - The Red Gate Way
I had some cross database comparisons that I wanted to simplify, but ensuring the collation matched. The amount of objects that I would have had to drop and recreate was a bit daunting, so I looked for a way to migrate the database to a different collation.Using the Red Gate toolkit, I was able to achieve this pretty quickly. There are other methods with copying data built in to SSMS that could do some of these steps, but the seamless approach was really nice with the SQL Toolbelt.
First I …
read more
Syncovery & Arq - Syncing & Backup
Syncovery & Arq 5I've tried a lot of file sync/backup utilities.
Updated: 2020-04-29
broken image links removed
The primary definition to get right is that there are two main functions people try to achieve with this type of software.
File Syncing: Syncing Files Between Cloud and Local
File Backup: Preserving Files, …
read more
Powershell ISE: Updating Theme
For all the dark theme aficionados, or those who just want a better theme than the default, here's a quick set of directions to update your ISE.1. Go to download a theme from Github > PowerShell_ISE_Themes 2. Unzip 3. Go to ISE > Tools > Options > Colors & Fonts > Manage Themes 4. Import selected theme 5. For consistency, adjust the background and forecolor of the console pane as well as the text background to match if you want to. In my case I took the RGB values from …
read more
Fixing non-deterministic error when creating indexed view
I discovered a bit of info on working with float values, while creating a hash value that contained a float value, and a date value.
create unique clustered index ix_clustered_ViewK_Catfood_K
Msg 1901, Level 16, State 1, Line 1517
Cannot create index or statistics 'ix_clustered_ViewK_Catfood_K' on view 'compareCatfood' because key column 'ViewK' is imprecise, computed and not persisted. Consider removing reference to column in view index or statistics key or changing column to be precise. If …
read more
DAW Dive 1 - Getting Started - Studio One 3
I'm a geek, software nerd, and a musician. As I've been stagnating lately in my musical progression I decided to dive into trying to produce some recordings of some of my music, hoping to spice up the old brain.I have a lot to learn. It's pretty humbling, but despite being a musician and a developer with some decent tinkering ability, I've found getting into recording and production a bit challenging on certain things. If you come from a background in which you understand …
read more
Setting DBCC 1222 on startup
The following command is run to gain details on deadlocks.
DBCC TRACEON (1222,-1)

However, once the SQL instance is restarted this flag is set back to disabled.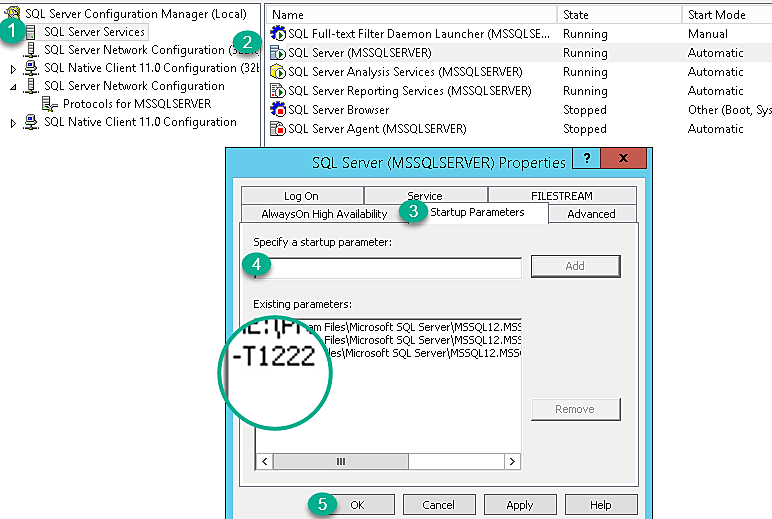 read more
Ableton Live & Lemur Setup (From a Windows User)
Had a chance to look at this program thanks to the generosity of the developer. They had a promotion that ended prematurely and they sent me a license as a goodwill gesture. Pretty fantastic service, and thanks to them for this.The documentation was a little sparse for the Windows setup, so I ran into some complications getting it to work.
I have used TouchOSC, and had some difficulty with configuring it for windows. True to other's postings, Lemur didn't make this easier. Especially …
read more
Lack for Nothing
The message of this song is one that that has been driving itself home as more and more important to me. We are not viewed in our frailty as we come before God to worship Him. We are not judged and condemned. He doesn't look and tell us to come back when we are in a better place. Instead, just as the author of Hebrews writes (Heb 10), we can come with bold confidence, knowing that the way has been made for us in Christ, with us being viewed through the "curtain" of Christ. This …
read more
Remote Desktop Workflow Improvements
Remote server management is a fact of life for folks involved with sql server. Since we work so often with remote machines I looked into a few tools that provided a better workflow than the default Microsoft tools. This one came out as the winner by far.
A better remote desktop manager
First off, if you are using RDC…. why? At least move up to RDCMan, a microsoft tool that allows for much quick context switching between machines, inherited password settings for a group of servers, and …
read more